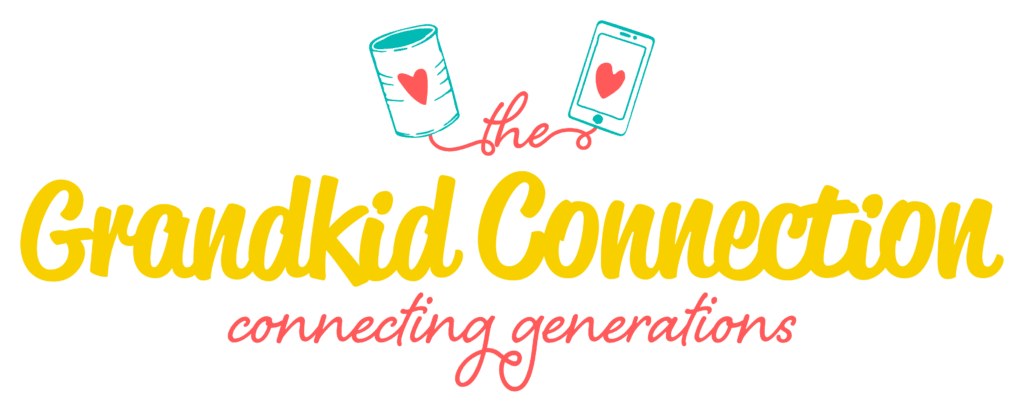 Here you will find all the resources for the activity calendar. Note that not every single day has something on it. Below, I've added links, downloads of printables, additional info, etc. for the items on the calendar, and during the month, I'll add more or updated info. It will be a continuing work in progress. For instance, if something says: Coming Soon!, that just means that I will have the entire resource ready by the date on the calendar. Or there will be times that all the dates are not on there at the beginning of the month, but more will be added throughout the month. You get the idea.
Note: To see the most updated version of this page, make sure you refresh the page each time you visit.
1st – Idea Post – We have loved taking the grandkids to the summer farmer's markets in our area! Here is a post all about Taking the Grandkids to a Farmer's Market. I have included some printables for the farmer's market in the post.
2nd – Play – Do a jigsaw puzzle together – Sometimes, during the summer, you need some quiet time or down time on a hot summer afternoon. Doing a jigsaw puzzle together can be relaxing and provide a time for conversation. Try this one from The Magic Puzzle Company! It's truly Magic – it's a puzzle with a really fun twist. My grandkids LOOOOOVE these puzzles!! We really enjoy eating treats and listening to music while we do puzzles together.
3rd – Joke – A little animal humor to kick off the summer.
4th – Legacy Idea – Summer of Heroes – This is a really fun family activity! Research some ancestors and find pictures of them if possible. Once a week, talk about that family member and share their stories. Create a "Summer of Heroes" activity this summer. If you did this last summer, choose some new relatives this year.
5th – Text Idea – As your teen grands will be out in their swimsuits or at social gatherings, remind them to be themselves. Their self image is often quite fragile during those teen years. Encourage them to not be fake for someone else's sake.
6th – Father's Day Craft – Help the grandkids make a fun little "You Rock, Dad!" card for Father's Day. Use real rocks and paint them. Then add them to a colorful piece of cardstock. (I know, mine is plain white, but it would look so much better on a color.) *Note: The rocks are actually too heavy for the cardstock. So, I suggest you put a piece of chipboard on the backside of the card front for stability. You can add googly eyes or paint on the eyes and a mouth. Use a marker to draw some hands so the little rock family can hold hands. Add a message like: "Dad, You Rock!" or "You're a Rock Star, Dad!" Let the grandkids get their creative hat on. Here's a sample of how it could look: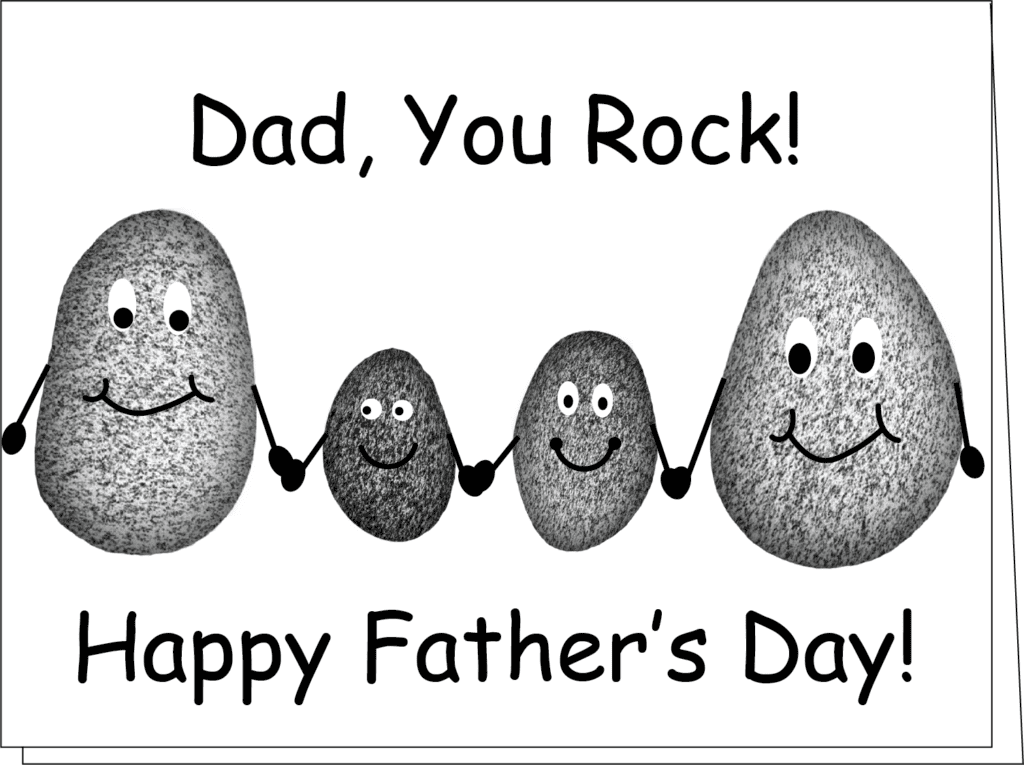 7th – Video Chat Idea – Want to have some extra fun with the long distance grandkids? Get some puppets and have a conversation speaking through the puppets. Or, you could read a book with the puppet as the narrator. Or make sack puppets with the kids and your puppets can talk back and forth on the video chat.
8th – Activity – It's no secret how much those littlest grandkids love bubbles. However, they will get a big kick out of making homemade bubble soap and maybe some bubble wands. The bubble wands are pretty easy just attach a pipe cleaner fashioned into a circle to a short dowel. For some really BIG fun, check out this giant bubble wand called a Bubblething!
10th – Quote – How many grandpas do you know that act like this?? 
11th – Quote – Just a quote about freedom as we approach Flag Day.
12th – Joke – My absolute favorite "Dad" joke! 
13th – Book Idea – Recently, I had talked about starting a summer book club with your grandkids. I know there are many books out there and you may ask your grandkids to choose one. However, I have a book suggestion that is timely for current events in the world. The book is called Maniac Magee, and I would recommend it for ages 9 – 14. I read it with my own kids as they were growing up. This book deals with racial differences, acceptance, seeing things from both sides, and has a fun element with a giant knot! How's THAT for a teaser? You should be able to find this book at your local library, but if not, you can get it here from Amazon – Maniac Magee by Jerry Spinelli. Here is a link to some questions to discuss after you read the book with your grandkids – Discussion questions for Maniac Magee.
14th- Flag Day – Learn about the flag from your country – it's beginnings, it's history, and what it means.
15th – Text Idea – To remind those teenagers to keep smiling and be positive.
16th – Snail Mail Idea – Beach Ball Mail – This is a super fun pen pal letter to send to your grandkids during the summer. Get an inflatable beach ball and blow it up. Using a Sharpie, write a message on the ball and then let the air out. I always like to include a smiley face or heart somewhere in my message. Send the flattened beach ball to your grandchildren with or without any explanation. Ha ha! Surely they will discover that you wrote on the ball and they need to inflate it to read the message. Then ask them to write back to you on the ball or just let them keep it to play with. Every time they play with the ball, they will see your message and think of you.
17th – Craft Idea – Get out and find those unwanted rocks in the backyard! Give them new life by painting them bright colors and writing fun messages on them. Or you can make little rock animals out of them. Let the kiddos take them home or use them for a service project (see the 28th down below for details).
18th – Happy Father's Day!
19th – Activity – Water Balloon Games – I found a fun post that had 21 games you could play with water balloons. It's a great way to cool off on a hot summer afternoon if there isn't a pool nearby. I personally like to do water balloon games now that they have those super fast-filling water balloons. You can fill up 100 balloons in no time!! Definitely heaven sent! Here's a link to self-filling water balloons in case you don't know what I'm talking about.
20th – Joke – Some summer humor.
21st – Happy First Day of Summer!
22nd – Quote – I've often seen this quote on T-shirts and mugs. . .But isn't it so true!
23rd – Grandma Camp Idea – Summer time offers us time for some extended sleepovers with the grandkids. I like to do little "camp" weekends for the kids (as opposed to our big multi-day camp). If you have the kiddos for a little weekend, consider using a water theme to make your sleepover more than just routine. You can play water games (see the 20th above), have fun snacks (like gummy sharks in blue Jello), watch Finding Nemo, reading a book about the ocean – here's a big list of ocean books, and singing the Baby Shark song! A water theme is super easy for summer time and offers many possibilities for fun!
24th – Text Idea – Teen grands tend to find more trouble during the summer months as they are exploring their autonomy! Remind them that mistakes aren't the end of the world but part of the learning process.
25th – Play – Take an ABC Walk or Scavenger Hunt with the little grands. This is an especially fun activity for those who are just learning the alphabet. The idea is to take a walk around the yard, the neighborhood or local park and spot things that begin with the letters of the alphabet. Start with A, then B, and so on.
26th – Exploring Online – I love to go to the zoo. What is it about watching the animals? Especially the baby one! It's not always possible because of expense or distance. So, why not get online and explore some of the zoos and aquariums of the world! One of my favorites is the Monterrey Bay Aquarium in California. They have several live animal cams for you to watch. They even have lots of online activities and courses that you can take advantage of for free!
27th – Service Idea – Take the grandkids out into the community and place painted rocks with words of encouragement and place them in places where people will find them. Some of our favorite places are the police station, the fire department, the hospital parking lot, and schools. Find places where there are bushes, trees, or planters that you can add these to. Be sure to avoid leaving them in grassy areas where they might cause problems for a lawn mower.
28th – Text Idea – Remind those teenagers to soar to new heights with a good attitude. My daddy used to always say that your attitude determines your altitude!
30th – Craft – Tie dye a patriotic shirt – Here is a fun resource to try a patriotic tie dye shirt.